Taste | Style | Authenticity
Stunningly Restored
Chaff Mill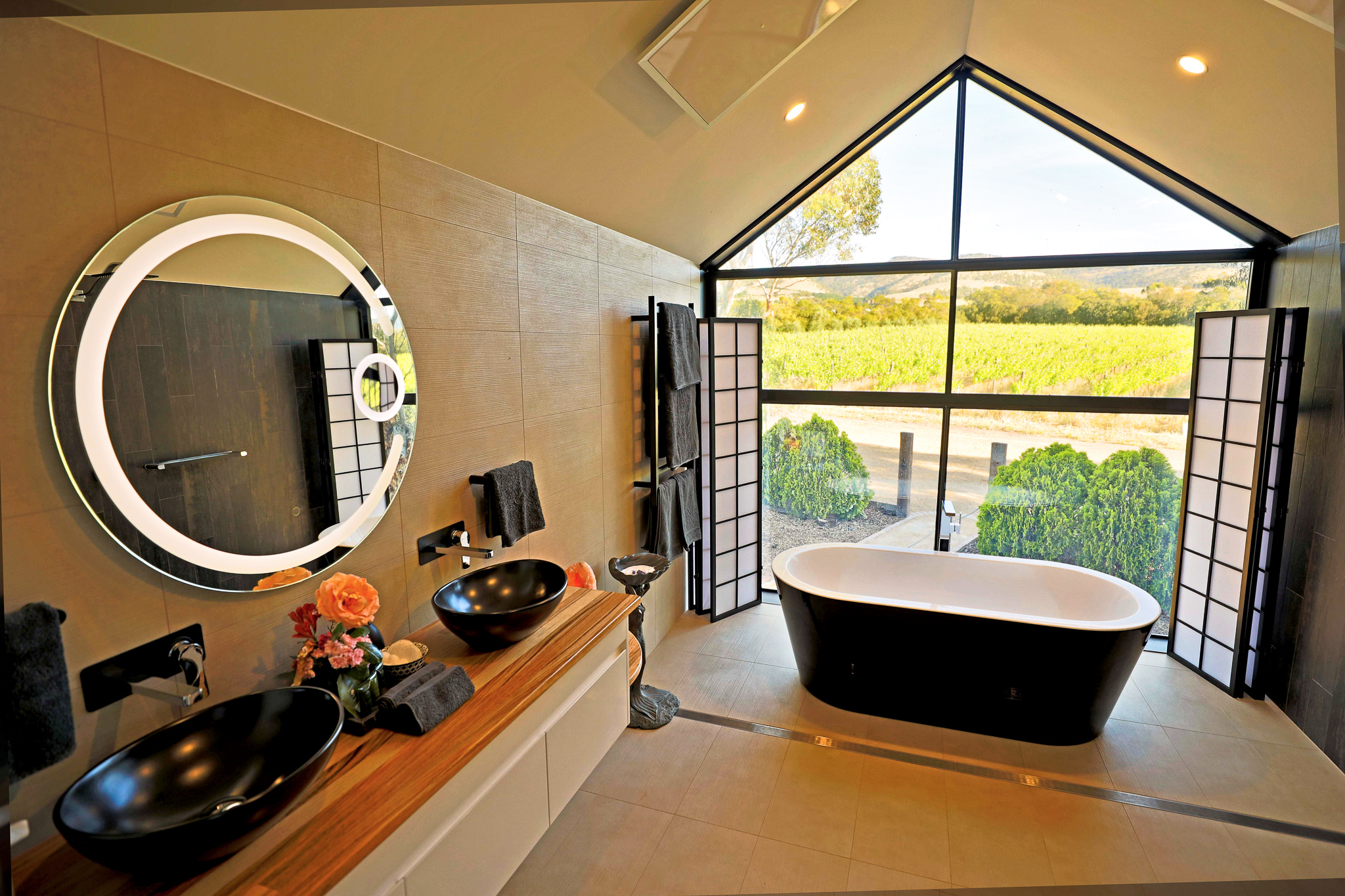 Gutted by fire a century ago, now a phoenix reborn with an ultra-modern fitout in exquisite detail. Your every comfort is catered for, from finest linens, bathrobes and slippers, a welcome plate of fresh local produce – living history, lush gardens — just perfection!
Luxury boutique accommodation
nestled amongst our organic shiraz vineyard and almond grove
where grapevines meet ocean -
McLaren Vale: South Australia's premier wine region
Anniversaries, birthdays, proposals, even elopements.
Treat yourself for a special occasion – or just to completely unwind.
Ask about our special babymoon packages, which include pregnancy-friendly catering, non-alcoholic wine/champagne, and special pamper treatments in our on-site day spa: Hidden Beauty
A cozy retreat with charm and romance. The thoughtfulness and subtle extras in the home were much appreciated. Examples like the beautiful cheese plate and wine, the warm reception, the outdoor bath and cozy record player and record collection all added to what was a lovely accommodation.
Benjamin
Nov 2020
Beautiful and thoughtfully restored building with excellent amenities. Great location near the beach and wine region.
Kate
Nov 2020
Love at first stay !!!! We couldn't fault a single thing. We loved every minute and if we could stay longer, we would. There was nothing we could fault.
Jakub
Dec 2020
Wow, what a great experience! A stunning venue with exceptional hosts. The Mill itself is absolutely gorgeous, so beautifully restored and thoughtfully appointed, an architectural jewel. The accommodation is really comfortable and Richard and Bernice are super-considerate hosts who ensured we had everything we needed for a memorable stay. They were so easy to communicate with and responsive when we had requests. Bernice is a qualified beauty and massage therapist and I can highly recommend her services; ensure you treat yourself while you're there. We loved it and will be back again. Don't hesitate, book.
Jaynie-O
Dec 2020
Bernice & Richard's place is one of a kind and wow - it's something very, very special. Presented with pride and such immaculate attention to detail. Every feature from the bath towels, sheets, lighting and kitchen amenities are top quality. Every little thing has been considered. It's pure luxury! We loved the outside bath and sitting on the deck listening to the birds with a glass of wine. Bernice & Richard were so helpful and very kind when we had to reschedule our trip due to COVID lockdown. Be sure to book yourself in to Hidden Beauty for a massage with Bernice - who would've thought paradise could get even better. We will be recommending The Millery to all of our friends. We hope to stay again soon.
Tiarne & Theo
Nov 2020